We are making quick and easy Iri-Dofu, a scrambled tofu dish using easily available ingredients. The light and smooth texture makes the dish more delicious. Everybody will love the taste!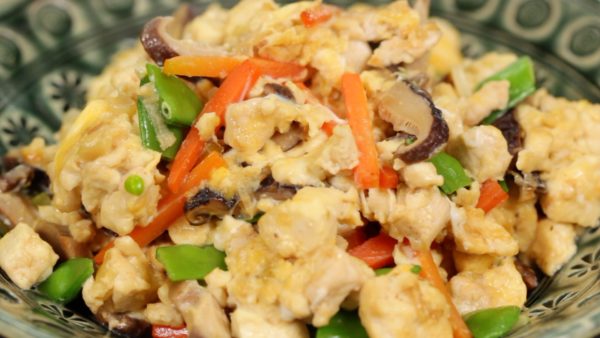 Remove the firm stringy fibers of the snow peas. You can also use snap peas or string bean pods instead. Add salt to a pot of boiling water to help keep the peas from getting soggy. Boil the snow peas for about 1 minute. Remove and strain the peas with a mesh strainer.

Boil the firm tofu in the same pot. As shown, tear the tofu and submerge it in the boiling water. This parboiling process will reduce the water in the tofu and also help it absorb the flavor.

When the inside becomes hot, remove and strain the tofu with a mesh strainer.

Let's cut the ingredients. Cut the snow peas into 1cm (0.4") pieces using diagonal cuts. Slice the carrot into 4cm (1.6") slices. Then, cut into relatively thick strips.

Rehydrate the dried shiitake mushrooms and squeeze out the excess liquid. Save the shiitake liquid for later use. Remove the stems. And cut the caps into fine strips.

As for the chicken breast, cut into 1cm (0.4") cubes. Cut the white part of the long green onion into thin circular slices.

Let's make the Iri Dofu. Heat the sesame oil in a pan. Add the white part of long green onion. Stir-fry until the onion is slightly browned and it starts to grow more fragrant.

Add the carrot. Then, add the shiitake mushrooms.

When the sesame oil is distributed evenly, add the chicken. Continue to stir-fry.

Now, the chicken is cooked. Remove the excess water from the tofu with a paper towel. Then, add the tofu. Roughly break the tofu into smaller pieces while sauteing.

Lightly season the tofu with salt. If you are a health-conscious person, you can definitely leave it out but a pinch of salt makes a big difference and brings out the savory flavor. Stir-fry on high heat and reduce the liquid.

Add the sugar, salt, soy sauce and shiitake liquid. The savory shiitake broth should be about 2 to 3 tablespoons. If you add too much liquid, you will need to spend more time to reduce it.

Thoroughly stir-fry the ingredients and reduce the excess broth. Then, pour the beaten egg over the mixture.

When the edges begin to firm up, gently distribute the egg. Add the snow peas and quickly mix.

Now, it is ready. Ladle the Iri Dofu into a bowl.
When you use the Iri-Dofu as a bento ingredient, be sure to stir-fry thoroughly to reduce the broth and cook the egg completely.
To rehydrate the dried shiitake mushrooms, soak them in water and store in the fridge overnight. You can also freeze the rehydrated shiitake to keep them on standby.