The broth of Kitsune Udon is amazingly delicious! Kitsune refers to simmered, sweetened aburaage, thin deep-fried tofu. To make this, please watch our Inarizushi video.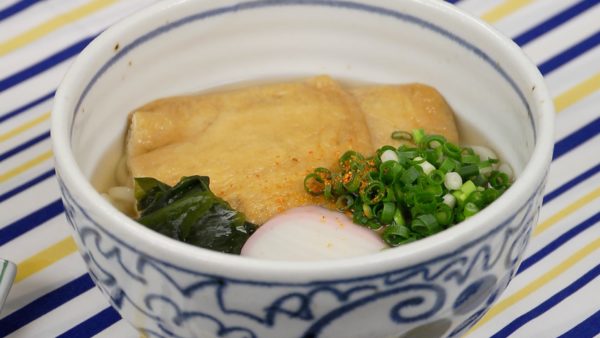 | | |
| --- | --- |
| | |
Let's make the dashi stock. Remove the heads and stomachs of the dried baby sardines. Soak the sardines and the kombu seaweed in water and let it sit in the fridge overnight. Pour the water along with the baby sardines and kombu seaweed into a pot. Gradually heat the dashi stock on medium low heat.

When small bubbles begin to form, remove the kombu seaweed. Simmer the baby sardines on low heat for 5 more minutes. Keep ladling out the foam thoroughly while simmering. This will help remove any unwanted flavor.

Remove the baby sardines. The used kombu and the sardines can be saved and used as the ingredients of kakiage, mixed vegetable tempura.

Turn off the burner and add the bonito flakes. Let it sit for 2 to 3 minutes.

Then, strain the dashi stock using a mesh strainer covered with a paper towel. Lightly squeeze the bonito flakes and now the clear dashi stock for the udon is ready!

Measure the dashi stock. If it is less than 600ml or about two and a half cups, add water to compensate.

Let's make the broth. Pour 600ml (2.54 cups) of the dashi stock into a pot. Add the salt, soy sauce and mirin. Turn on the burner and mix it evenly. When it begins to boil, turn off the burner. Now, the broth is ready.

Let's make the kitsune udon. Heat a bowl in a pot of hot water and remove. Place the frozen udon noodles into the boiling water.

When the noodles are completely separated, turn off the burner and quickly place them into a mesh strainer. Remove the excess water thoroughly and place the noodles into the preheated bowl.

Pour a generous amount of the hot udon broth over the noodles.

Top with the sweetened aburaage, thin deep-fried tofu, wakame seaweed and the kamaboko fish cake. Add the chopped spring onion leaves. Finally, sprinkle on the shichimi, seven flavor chili powder to taste.
To make the sweetened aburaage, please check our Inarizushi, fried tofu pouches filled with sushi rice.
You may think that making the dashi stock takes too much time but the homemade dashi is exceptionally delicious.
You can substitute dashi stock powder if the ingredients are not available.