We are making spicy and delicious Chicken Curry. This is a recipe you can't resist and it is worth spending the time to make it.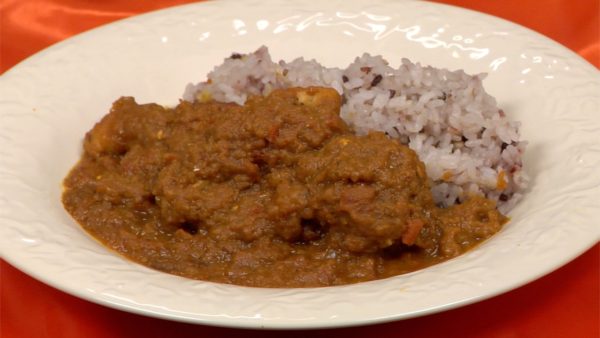 | | |
| --- | --- |
| | |
Let's season the chicken drumsticks. Make sure to prewash the chicken and remove all the excess moisture. Sprinkle on the salt, pepper and curry powder. Flip the chicken over and then sprinkle on the salt, pepper and curry powder again. Toss to coat evenly.

Let's grate the onions using a food processor. Cut the onions in half and then into rough pieces. Put the pieces into the bowl and cover with a lid. Pulse several times and then turn on the processor. And now the onion is grated.

Let's saute the chicken. Add the olive oil to a pot and turn on the burner. Dust the chicken pieces with all-purpose flour, flip them over and dust again. Toss to coat evenly.

Line up the chicken in the heated pot. Lightly brown the surface and flip them over. The curry powder easily burns so keep your eyes on it.

Remove the chicken and set aside.

Add a little more olive oil to the pot and drop in the grated onion. Stir the onion on high heat and reduce the liquid.

Continue scraping the scorched onion off the bottom and sides and brown the onion on high heat for about 30 minutes.

When it comes to the end, reduce the heat to low and carefully caramelize the onion. Add the cumin seeds, grated ginger and garlic. Stir the mixture and allow the aroma to grow stronger.

Add the curry powder and saute for 2 to 3 minutes until aromatic.

Add the diced tomatoes and continue sauteing the mixture.

Add the water and crumble in the chicken bouillon cube.

Add the yogurt and distribute it evenly. Place the chicken into the pot.

Bring it to a boil on high heat and remove the foam. Cover and simmer for 25 to 30 minutes on low heat. This will allow the bone marrow to melt into a savory broth. Occasionally stir the bottom of the pot to keep it from burning.

Add the salt, pepper, curry powder, garam masala spices, and the fruit jam, and distribute evenly.

Cover and simmer for 2 to 3 more minutes. Turn off the burner and now the curry is ready to serve.

Place the steamed rice with mixed grains and seeds onto a plate. Ladle the chicken curry next to the rice. And now, the chicken curry is ready.
Sauteing the onion for 30 minutes is quite a bit of work but your effort will be rewarded by the delicious chicken curry.
Add the powdered spices again in the final stage since they easily lose the aroma when cooked thoroughly.
When rushed, you may use ready to cook fried onion paste to save time.