We are making Katsudon, pork cutlet bowl. A perfect balance of sweet and salty!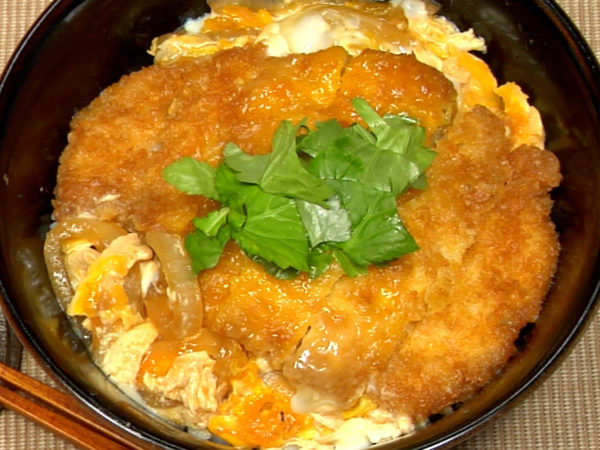 | | |
| --- | --- |
| | |
Let's cut the ingredients for Katsudon. Slice the onion into 5mm (0.2") slices. Chop the mitsuba parsley into 1.5~2cm (0.6~0.8") pieces.

Let's prepare the pork loin slice. Make several cuts across the tough, stringy part between the fat and lean meat. Flip it over and repeat the process. This will prevent the pork slice from curling up when deep-fried.

Tenderize the pork slice with a meat pounder. Sprinkle the salt and pepper on one side.

Crack the egg into a bowl and spoon a quarter of it into a shallow dish. Add a sprinkle of water and beat well with a whisk.

Dust both sides of the pork slice with the all-purpose flour.

Make sure to remove the excess flour and then dip the pork in the egg.

Coat the pork with the nama-panko, soft bread crumbs and shape with your hands.

Let's deep-fry the pork in a heavy pot. Preheat the oil to 170°C (340°F). Gently place the pork into the oil and deep-fry for 2 to 3 minutes. Slowly rotate the pork slice as shown to brown evenly.

Flip it over with tongs and cook the other side for 2 to 3 more minutes until golden brown.

Place the tonkatsu, deep-fried pork cutlet onto a cooling rack and drain the excess oil.

When cooled, cut the tonkatsu into 1.5~2cm (0.6"~0.8") pieces.

Let's make the katsudon sauce. Combine the water, dashi stock powder, soy sauce, mirin, sugar and the onion in a small pan. Stir lightly with chopsticks.

Cover and turn on the burner to medium heat. When it begins to boil, reduce the heat to low and simmer for about 3 minutes.

When the onion is completely cooked, place the tonkatsu into the pan.

Crack the egg into a bowl. Beat the egg lightly and distribute it onto the tonkatsu.

Cover again and cook on high heat for 20 to 30 seconds. Remove the lid. When the egg reaches the desired consistency, garnish with the mitsuba parsley and turn off the burner.

Place the fresh steamed rice into a rice bowl. With a turner, gently place the mixture onto the rice.
A tip to making a delicious katsudon is to distribute the egg over high heat while the tonkatsu is still fresh and warm.
Avoid over-mixing the egg otherwise it will lose its rich and fluffy texture.
There is a tradition that Japanese students eat Katsudon before taking an entrance exam since Katsu also means "to win."