The oshizushi with moderately fatty marinated mackerel is so delicious! Instead of using a special oshizushi mold, we are substituting a bento lunch box.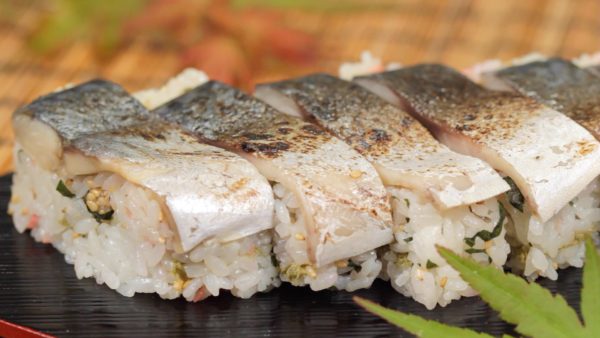 1

Shime Saba

Japanese marinated mackerel, packaged
1

Shime Saba

Japanese marinated mackerel, packaged
Let's make the sushi vinegar. Combine the rice vinegar, salt and sugar. Stir to dissolve well.

Next, cut the shiso leaves in half lengthwise and remove the stalks. Stack the leaves and cut them into thin strips. Cut the beni shoga, thin strips of pickled ginger into fine pieces.

Place the fresh steamed rice into a bowl. Pour the sushi vinegar over the rice. With a rice paddle, toss to coat using a slashing motion to avoid crushing the grains.

When the vinegar is distributed evenly, slightly cool the rice with a fan. Flip the rice over and continue to cool the rice. This will help give the rice a glossy texture and remove the excess moisture.

Add the toasted white sesame seeds, shiso leaves and beni shoga. Combine all the ingredients evenly.

Place the shime saba, Japanese marinated mackerel on a baking sheet and sear the skin thoroughly with the kitchen torch. To make shime saba, fresh mackerel fillets are covered with salt and then, after removing the salt, the fillets are marinated in vinegar. Lightly cool the shime saba with a fan.

Cover a bento box with a plastic wrap and place in the shime saba with the skin side facing down.

Add a small amount of vinegar to a bowl of water and wet a rice paddle with it. Place the sushi rice onto the shime saba and distribute.

Add in the tororo kombu, thin long flakes of dried kombu seaweed softened in vinegar before shaving.

Cover with a plastic wrap. And thoroughly press the rice using a divider attached with the bento box.

Wet the paddle and place the rice into the bento box again. Distribute evenly. Cover and press it again. Let the sushi sit in the fridge for about 10 minutes, allowing the ingredients to firmly attach together.

Flip the bento box and remove the pressed sushi. Wet the blade of a knife thoroughly. Make a cut in the plastic wrap and then slice off the oshizushi. You should clean the blade each time you cut off a slice. If the blade is coated with rice, it will be difficult to make clean cuts.

Now, remove the plastic wrap. Arrange the oshizushi onto a plate. Finally, garnish with the autumn colored leaves.
Packaged shime saba is widely available in Japan and it is enjoyed as sashimi or sushi. Alternatively, you can use grilled mackerel seasoned with salt or smoked salmon.
Searing the skin of shime saba is optional but the nice and crispy outside will definitely stimulate your appetite.
If the shiso leaves are not available, you can use cucumber instead. Let salted cucumber slices sit for a while and tightly squeeze out the excess liquid before adding.