We are making soft-cooked omurice where the top is covered with the egg instead of being wrapped completely. The combination of the soft-cooked egg and the thoroughly stir-fried rice is very delicious!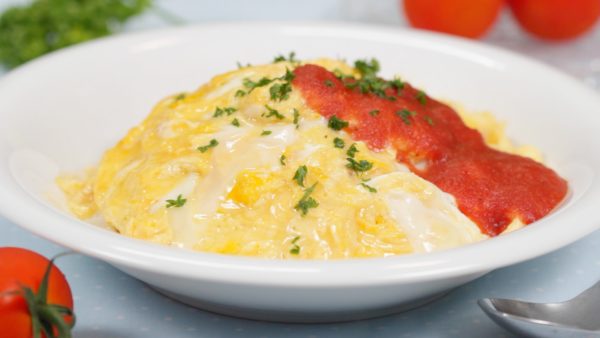 | | |
| --- | --- |
| | |
Let's make the omurice sauce. Using a hand blender, make the tomato sauce smooth.

Pour the sauce into a small pot and turn on the burner. Heat the sauce while stirring. Then, add a splash of soy sauce. This will bring out the flavor and give the sauce a touch of Japanese style. This simple sauce goes great with omurice.

Let's make the chicken rice. Lightly season the chicken pieces with salt and pepper. Then, toss to coat. Heat a pan and add the vegetable oil. Add the coarsely chopped onion and the mixed vegetables. Saute the vegetables for about 1 to 2 minutes.

When the pungent taste of the onion disappears and it starts to grow more fragrant, add the chicken pieces. Continue sauteing.

When the chicken is almost cooked, add the button mushrooms.

When the mushrooms are coated with oil, add the white wine and stir. Then, add the ketchup. Distribute the ketchup and allow the excess water to evaporate. A tip to making this dish delicious is to reduce the moisture of ketchup here.

Add the hot steamed rice. Coat the rice with the sauce but be careful not to crush the grains.

Season with salt and pepper. Stir to combine. Place the chicken rice onto a plate.

Let's make the soft-cooked omurice. Break up the egg white with chopsticks and then lightly beat the eggs. Avoid over-beating the egg to give it a pleasant texture. Add the milk, salt and pepper.

Heat a pan and add the butter. Melt the butter and distribute it on the pan.

Lightly stir the egg mixture and quickly pour it into the pan.

When the edges begin to firm up, keep moving them to the center of the pan to give the egg an even silky texture. Keep watching the consistency of the egg and remove the pan from the burner to adjust the heat. Cook the egg halfway through and now it is ready.

Gently place the egg onto the chicken rice.

Pour on the tomato sauce. Finally, sprinkle on the chopped parsley leaves.
Bacon, ham or sausage can be also used instead of the chicken pieces.
The tomato sauce is easy to make and it is full of savory tomato flavor.
If you are not sure about the quality of your eggs or want to cook the egg completely, please check out our previous omurice recipe.