This luscious and aromatic Banana Bread with a fully ripe banana is best served when still warm. Baking makes the banana more aromatic!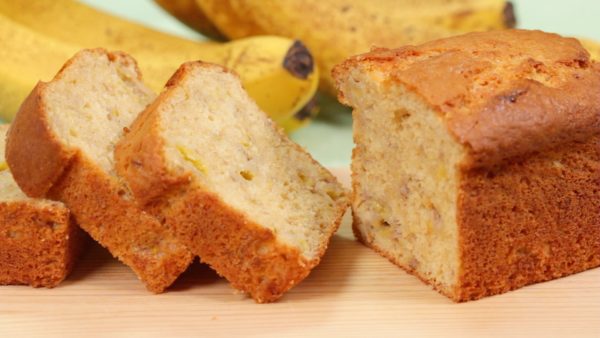 | | |
| --- | --- |
| | |
Mash the ripe banana with a balloon whisk. To help prevent it from discoloring, add the lemon juice. Toss to coat evenly.

Beat an egg in a bowl. Add the raw sugar. The raw sugar goes great with this recipe but you can substitute regular white sugar instead. Continue to mix.

Add the vanilla extract. And mix until the sugar dissolves completely.

Combine the unsalted butter and milk in a cup and gradually melt it in hot water.

Add the melted butter to the egg mixture. You can also use vegetable oil instead of the butter. Mix it evenly.

Combine the cake flour, baking powder and salt. Stir to mix. Then, sift the flour into the bowl. You can also use all purpose flour instead of the cake flour.

Distribute the mashed banana into the bowl. And coat the banana with the flour.

Mix the batter with minimal folding actions until all the flour is moistened. Make sure to avoid overmixing otherwise it will have a dense and firm texture.

Line a loaf pan with parchment paper and pour in the batter. Drop the pan on a flat surface several times to remove any air bubbles. Even out the top.

Before making the batter, make sure to preheat the oven to 170°C (340°F). Place the pan into the oven and bake at 170°C (340°F) for about 50 minutes. If the top browns too quickly, cover it with aluminum foil at the final stage to keep it from burning.

Remove the pan and place it onto a cooling rack. Skewer the bread with a bamboo stick and if the stick comes out clean, it is ready. Let it sit until slightly cooled.

Remove the bread from the pan. The outside is crispy and the inside is moist and fluffy. The bread is still warm and looks so delicious!
A tip to making delicious banana bread is to use an aromatic ripe banana.
Walnuts, cinnamon powder or rum can be added to taste.
The sweetness depends on the banana so adjust the amount of sugar to taste.
When storing the bread in the fridge, it is best toasted to enhance the fluffy texture.