Enjoy the Cold Pork Soba Noodles with sesame dipping sauce. Along with the noodles, this recipe offers a full balanced meal with meat and vegetables.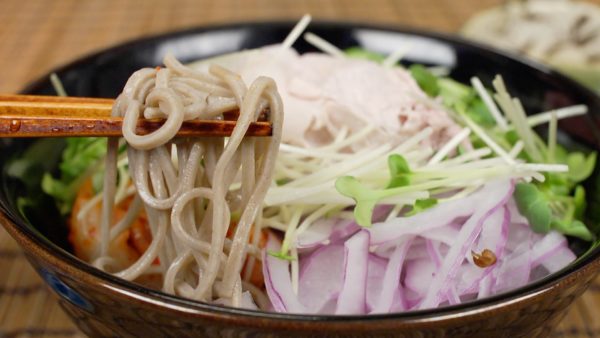 50

g

Thin Pork Slices

pork loin for shabu shabu

30

g

Kimchi

fermented Korean side dish

20

g

Cucumbers

20

g

Red Onions

10

g

Kaiware Radish Sprouts

substitute: garden cress
Let's cut the vegetables. Slice the red onion into thin slices. Soak the onion in ice water to reduce the pungent taste.

Peel the cucumber with a peeler in a striped pattern. Cut it in half lengthwise. Then, slice it into thin slices using diagonal cuts.

Remove the root part of the kaiware radish sprouts or garden cress and cut them in half.

Squeeze out the excess water from the onion and place it onto a plate.

Let's make the dipping sauce. To the white sesame paste, add a little soba noodle soup base and stir to dissolve. Add the soup base in 2 to 3 steps to help prevent the sauce from separating. Add the grated ginger root, stir and the sesame sauce is ready. Chill the vegetables and the dipping sauce in the fridge.

Let's cook the noodles. Place the frozen soba noodles into a pot of boiling water. Loosen up the noodles on high heat and then, turn off the burner.

Remove the soba with a mesh strainer and place it into cold water or rinse under running water.

Allow the soba to cool in a bowl of ice water. Then, squeeze out the excess water and place the soba into a bowl.

Add the sesame oil and toss to coat. This will help to keep the noodles from sticking together.

Place the very thin pork loin slices into the same hot water in the pot.

Stir the slices until they turn white and place them onto the cutting board covered with a paper towel. Remove the excess water thoroughly. Then, cut the pork into bite-size pieces.

Arrange the toppings onto the soba noodles. Add the kimchi, fermented Korean side dish, red onion, cucumber and pork slices. Finally, distribute the kaiware radish sprouts on top.

Dip the soba and vegetables into the chilled sesame sauce and enjoy the refreshing crisp taste.
A number of different Japanese toppings go great with this recipe.Try adding tempura, toasted nori seaweed or natto, fermented soybeans.
Dipping the pork in slightly cooled boiling water will help to make the meat tender and delicious.