Maguro Zukedon is marinated fresh tuna served on a rice bowl. After fully absorbing the sauce, the tuna has a deliciously delicate flavor and goes great with fresh steamed rice.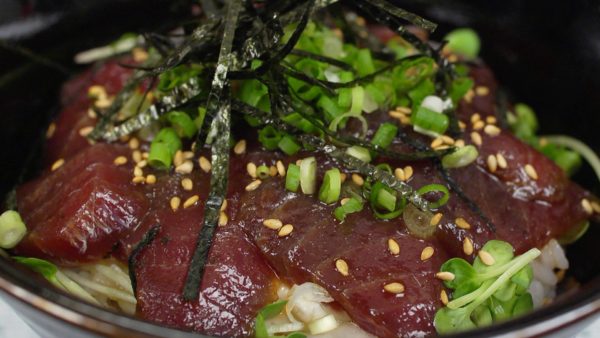 | | |
| --- | --- |
| | |
Let's make the marinade. In a small pot, combine the soy sauce, mirin and dashi stock, and turn on the burner. Allow the sauce to reach a rolling boil and then turn off the burner.

Pour the sauce into a bowl and float it in ice water to cool. Add the sesame oil and mix the sauce.

Slice the sashimi-grade fresh tuna also known as maguro into 6~7mm (0.2") slices. Remove the excess water with a paper towel.

Place the tuna into the chilled marinating sauce. Make sure to submerge the slices in the sauce and let them sit for 10 to 20 minutes.

Let's make the Maguro Zukedon. Dissolve the wasabi in the sauce to taste.

Spoon the sauce over the slightly cooled steamed rice.

Grate the yamaimo, Japanese mountain yam. That looks really gooey, doesn't it? Place the yam onto the steamed rice.

Add the kaiware radish sprouts or garden cress. Then, arrange the marinated maguro slices on top.

Place the chopped spring onion leaves around the center. Garnish with the toasted nori seaweed. Finally, sprinkle on the toasted white sesame seeds.
This dish is best served immediately as the fresh tuna spoils quickly.
Maguro and avocado are a great combination so you can try it as an additional topping as well.
Sashimi-grade fresh salmon, bonito and sea bream can also be used for this recipe.
No feeds available.