The freshly made Pão de Queijo, Brazilian cheese bread have a gooey texture and they are very delicious!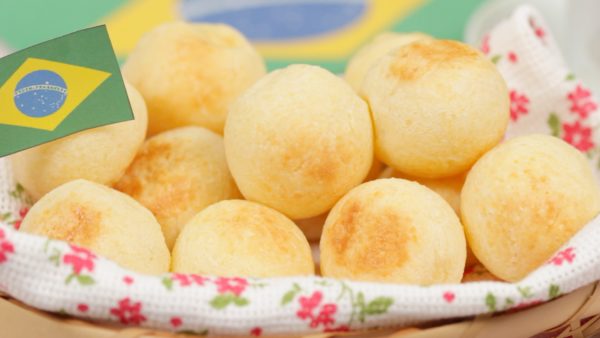 | | |
| --- | --- |
| | |
Let's make the dough for the pão de queijo. In a small pot, combine the water, milk and the olive oil. Turn on the burner.

Swirl the pot to even out the temperature. Heat the mixture until just before it begins to boil.

Pour the mixture into a bowl of tapioca starch. With a heat-resistant spatula, quickly combine the mixture.

When the dough is cool enough to touch, knead it by hand.

Add half of the beaten egg and continue mixing. Add the rest of the egg.

Add the grated Parmesan or Edam cheese.

Continue kneading the dough until the cheese is mixed evenly.

Coat your hands with oil to help avoid sticking and shape the dough into balls. Take about 1 tablespoonful of the dough and shape it into a ball.

Repeat the process and place 12 balls onto a baking sheet covered with parchment paper. If the dough is too soft to shape, you can also spoon it directly onto the sheet.

Heat the oven to 170°C (340°F) and bake for about 20 minutes. Even if the balls are uneven, they will become round while baking.

Remove the baking sheet. Place the pão de queijo onto a cooling rack.
In this recipe, we used a minimum amount of cheese to reduce the usage of salt but you can add more cheese to taste.