Let's make the Shogayaki using a pork loin steak. The combination of the fruity sauce and the pork is very delicious. Enjoy the big steak and beat the hot summer heat!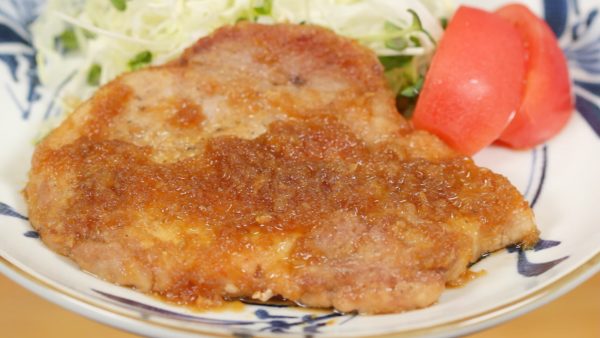 | | |
| --- | --- |
| | |
Combine the soy sauce, sake, mirin, grated onion, grated apple and grated ginger root in a bowl. Mix thoroughly.

Trim off the fat from the pork loin steak. The thickness of the steak should be about 1.5cm (0.6"). Make numerous cuts along the tough stringy parts between the fat and the lean meat. Be sure to bring the meat to room temperature before cooking. This will help to avoid undercooking the inside.

Lightly season both sides with salt and pepper. Let it sit for 5 to 10 minutes.

Let's make the shogayaki. Place the pork steak into a plastic bag with all purpose flour. Coating the steak with the flour will help it to keep the juices inside and also make the sauce slightly thicker.

Heat a pan on medium heat and add a generous amount of vegetable oil. Place the pork loin steak onto the heated pan. Make sure to cook the top side first so that you can present a beautifully browned surface. Occasionally swirl the pan to help brown the surface evenly.

When the bottom is golden brown, flip it over. Reduce the heat to low and spoon the hot oil over the steak until the inside is cooked.

Pierce the steak with a bamboo stick. If the juices are clear, it is ready. Turn off the burner and place the steak onto a cooling rack.

Lightly remove the remaining oil in the pan with a paper towel. The sauce serves 2 people so add half of it to the pan. Turn on the burner. This sauce has a relatively strong flavor so dilute it with a small amount of sake or water if you like a milder taste.

Bring the sauce to a boil and place the steak in the pan. Flip it over and coat both sides with the sauce. Be sure not to overcook the pork otherwise it will become tough.

Place the steak onto a plate along with the tomato, cabbage leaves and kaiware radish sprouts. Finally, ladle the remaining sauce over the steak.
The pork is tender and juicy and the slight sweetness of the sauce really brings out the flavor of the dish.
If fresh apples are not available, you can substitute 100 percent apple juice instead.