Ryukyu is a local Sashimi dish in Oita Prefecture. Just pouring hot water over the Ryukyu rice bowl also turns it into a quick and easy Ochazuke. You will be addicted once you have tasted this delicious dish!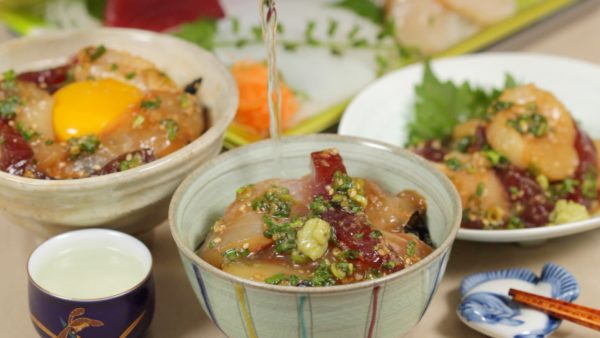 | | |
| --- | --- |
| | |
Let's make the marinade. Combine the soy sauce and mirin in a bowl. Add the grated ginger and stir to mix. Alternatively, you can add wasabi to the marinade instead of the ginger to give it a bit of kick.

We're using an assortment of easily available sashimi but real Ryukyu in Oita Prefecture often uses fresh aji horse mackerel, saba mackerel or buri yellowtail. From left to right we have cuttlefish, tuna and yellowtail.

If the sashimi is too large, halve the slices lengthwise to help them absorb the marinade better.

Place the pieces into the bowl of the marinade.

Add the tai also known as sea bream and the scallops. If the amount of marinade isn't enough to cover the sashimi, add an equal amount of soy sauce and mirin at this stage.

Gently toss the sashimi pieces with the marinade. Cover the sashimi with plastic wrap and let it sit in the fridge for about 30 minutes.

This is the Ryukyu marinated for 30 minutes. The sashimi looks so delicious!

Add a generous amount of ground white sesame seeds and chopped spring onion. Lightly toss to coat.

We're introducing 3 ways to enjoy the Ryukyu. First, enjoy the Ryukyu as an accompaniment to drinks. Place the Ryukyu onto a ladle. Then, arrange it onto a shiso leaf placed in an ice-cold bowl.

The Ryukyu is delicious on its own and it goes great with beer and white wine as well as sake and shochu, which is Japanese distilled liquor. Garnish with the wasabi. You can also keep the Ryukyu in the fridge overnight to make the sashimi absorb more marinade.

Secondly, let's make Ryukudon, which is a rice bowl with Ryukyu. Cover the rice with the crumbled toasted nori seaweed.

Then, place the Ryukyu onto the rice. Make a shallow hole in the center and place the fresh egg yolk into it.

Thirdly, let's enjoy the Ryukyu as Ochazuke. Sprinkle the kombu dashi powder or kombu tea powder on the rice.

Ochazuke is a dish made by pouring hot green tea or dashi stock over steamed rice. Cover the rice with the crumbled nori seaweed and place the Ryukyu onto it.

Garnish with the wasabi. Finally, pour the hot water over the rice. This Ochazuke style Ryukyu is also called Atsumeshi.
Chef prefers a sweet marinade so she adds an equal amount of mirin to the soy sauce but you can reduce the amount of mirin to taste.
There are several stories of why this dish is called Ryukyu. One of the versions is that a fisherman from Ryukyu, a region of Okinawa, taught the recipe to the locals.