Let's cook easily available frozen salmon to make Yakizuke, in which the main ingredient is grilled first and then marinated. This is a local dish in Niigata Prefecture and it was originally made at home to preserve fresh salmon which are caught in that area.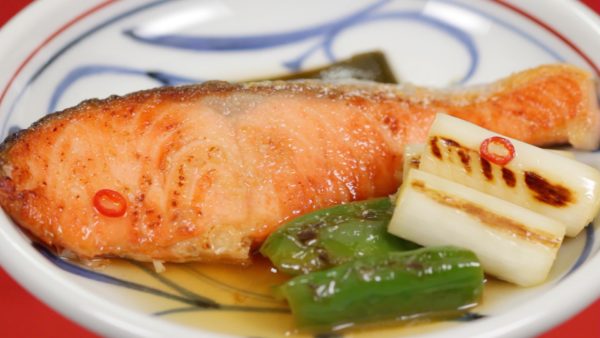 1

piece

Salmon

lightly salted

1

tsp

Sake

28

cm

Long Green Onions

1/2

Green Bell Pepper

cut into bite size pieces

Vegetable Oil
1

piece

Salmon

lightly salted

1

tsp

Sake

28

cm

Long Green Onions

1/2

Green Bell Pepper

cut into bite size pieces

Vegetable Oil
Let's make the marinade. In a small pot, combine the sake and the mirin. Turn on the burner. Bring it to a boil and let the alcohol evaporate until you can't smell it anymore. Pour the mixture onto a plate.

Add the vinegar, yuzu citrus juice, dashi kombu seaweed, dried red chili pepper and soy sauce. You can use any type of sour citrus juice instead of the yuzu juice. Stir to mix.

Make numerous cuts along the long green onion diagonally. The small cuts will help it to absorb the flavor and also help soften the texture. Then, cut the onion into 4cm (1.6") pieces. As for the bell pepper, cut it the same size as the onion.

Let's make the Salmon Yakizuke. Add the sake to the salmon. And coat both sides evenly.

Add the vegetable oil to a pan. Turn on the burner and add the long green onion and the bell pepper. Stir-fry the vegetables. You can also use asparagus, snap peas, onion or mushrooms instead.

Now, the vegetables are deliciously browned. Place them into the marinade.

With a paper towel, remove the moisture from the salmon. Then, using a mesh strainer, sprinkle all purpose flour on both sides. This will help to create a nicely browned surface and also absorb the marinade.

Add oil again and reheat the pan. Place the salmon into the pan. Saute the top side first so that you can present a beautifully browned surface. Occasionally shake the pan to brown evenly. Cover and saute on low heat.

When the bottom is golden brown, flip it over. Brown the other side. You can also grill the salmon to give the skin a crisp texture, making the dish more delicious. Now, it is ready.

Place the salmon onto the plate. Spoon the marinade over the ingredients and let them sit until cool.

Now, the Yakizuke has absorbed the flavor. Place the kombu seaweed and a piece of long green onion onto a plate. Then, lean the salmon against them.

Garnish with the bell pepper and the long green onion. Finally, spoon the marinade over the salmon.
You can enjoy the dish immediately or keep it in the fridge for several hours to help it absorb more delicious flavor.
The kombu seaweed did an excellent job! The dish absorbed the flavor well and it goes great with steamed rice.