Stuffed Lotus Root is great for a bento side dish and also served as a snack with alcohol. Enjoy the texture of the crispy lotus root!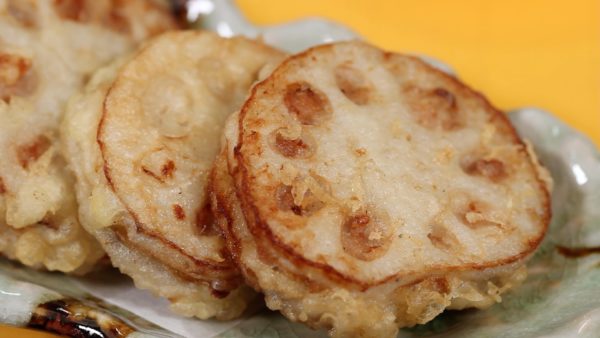 | | |
| --- | --- |
| | |
Let's make the meat filling. To the ground pork, add the salt and the pepper, and knead it thoroughly.

Add the grated ginger root, chopped long green onion, sake, sesame oil and the potato starch. And combine the mixture well.

Peel the lotus root. Slice it into 3 mm (0.1") slices.

Line up the lotus root onto a cutting board, making 8 pairs of slices. Remove the excess moisture with a paper towel. Then, sprinkle on the cake flour.

Divide the meat filling into 8 equal pieces and place each onto the slices. Press the meat into the holes.

With the flour side facing down, place another slice onto the filling, making sure they attach firmly together. Repeat the process and make 8 pieces of stuffed lotus root. Finally, adjust the shape of each lotus root.

Let's make the batter. Combine the cake flour, potato starch and baking powder, and stir with chopsticks. Measure out 4 tbsp of ice water in a bowl and sieve the powder into it.

Stir it with the chopsticks, but avoid overmixing to help the batter to have a crispy texture.

Drop a small bit of batter into the oil to check if the temperature has reached about 170°C (338°F). Coat each lotus root with the batter and place it into the oil.

When you use a little less oil as shown, make sure to adjust the temperature frequently.

When they are lightly colored, flip the pieces over. Deep-fry them until they have become crispy and browned evenly.

Remove and place the stuffed lotus root onto a cooling rack. Then, place the pieces onto a plate. Combine the vinegar, soy sauce and karashi hot mustard and enjoy it with the dish.
Adding the baking powder will also help to make the batter crispy.
You can also use eggplants instead of the lotus root.