Enjoy the delicious Okonomiyaki with the harmony of vegetables, seafood, pork belly and the various toppings!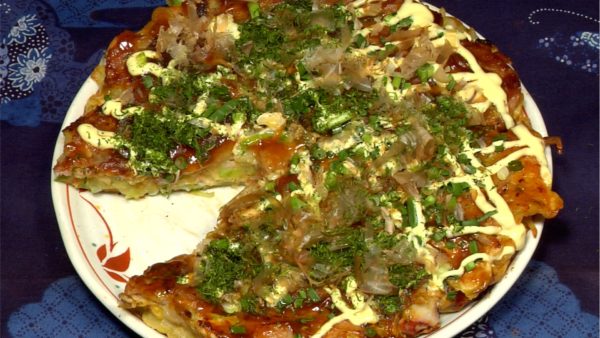 100

g

Pork Belly Slices

150

g

Cabbage Leaves

50

g

Long Green Onions

50

g

Boiled Octopus

8

Sweet Shrimp

amaebi

Tenkasu

crunchy bits of deep fried flour-batter

Dried Sakura Shrimp

optional

Beni Shoga

pickled ginger

2

Eggs
Let's make the batter for Okonomiyaki. Combine the cake flour and baking powder in a bowl and stir together with a whisk. Dissolve the bonito dashi stock powder in the water and gradually add the dashi stock while mixing. This will help avoid pockets of flour.

Add a sprinkle of salt. Grate the yamaimo, Japanese mountain yam. The yamaimo yam will give the okonomiyaki a delightfully gooey texture.

Let's cut the ingredients. Cut the pork belly slices into 5~6cm (2~2.4") pieces.

Chop the spring onion leaves into fine pieces. Remove the stalks of the cabbage leaves. Stack the leaves on top of each other and cut into strips, and then coarsely chop into pieces.

Place the cabbage leaves into the bowl of batter.

Chop the long green onion into fine pieces and place into the bowl. Chop the beni shoga, pickled ginger, into about 1cm (0.4") pieces and place into the bowl.

Slice the boiled octopus into 5~6mm (0.2") slices. Peel the amaebi, sweet shrimp and remove the heads and tails. Coarsely chop the shrimp and place into the bowl.

Add the tenkasu, crunchy bits of deep fried batter, and sakuraebi, dried pink baby shrimp.

Crack two eggs into the bowl and lightly toss all the ingredients to coat.

Remember not to mix the batter too much otherwise the texture will become tough.

Let's make Okonomiyaki. Preheat an electric griddle to high heat (approx. 240°C/464°F) and coat the surface with vegetable oil. Place the mixture onto the griddle, making a round shape. Make sure to leave a bit of batter in the bowl for later use.

Quickly place the pork slices onto the mixture. Coat the surface of the pork with the remaining batter. This will prevent the pork from getting tough.

Cover with a lid and cook about 2 minutes on high heat.

Turn the okonomiyaki over, cover and cook the other side until golden brown.

Remove the lid, flip it over again and lower to medium heat to cook the inside.

When it is ready to serve, coat it with the okonomiyaki sauce.

Sprinkle on lots of spring onion leaves and garnish with the mayonnaise. Finally, top with the aonori seaweed and dried bonito flakes.
Okonomiyaki literally means "grilled as you like it" so choose your favorite ingredients and enjoy your original okonomiyaki.
Okonomiyaki has many variations from region to region and you should definitely try it out when you visit Japan.