Enjoy the tender and spicy Spare Ribs while they're hot! The combination of the rich flavor of the meat and the refreshing taste of the black vinegar is outstanding!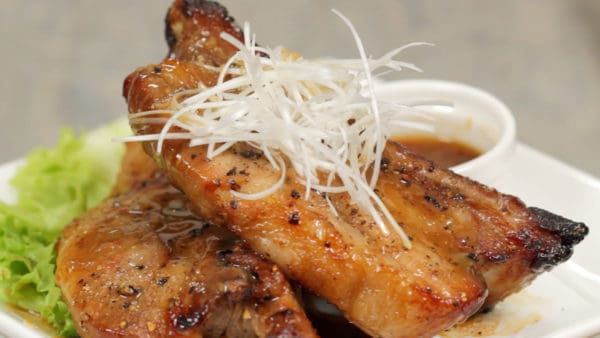 2

Pork Spare Ribs

1/2

tsp

Salt
Black Pepper

coarsely ground

Shiraganegi

shredded white part of a long green onion
2

Pork Spare Ribs

1/2

tsp

Salt

Black Pepper

coarsely ground

Shiraganegi

shredded white part of a long green onion
First, let's make the marinade. In a plastic bag, combine the soy sauce, oyster sauce, honey, black vinegar, ginger juice and grated garlic. Mix it thoroughly.

Prepare the ribs by rubbing all sides of the meat with half a teaspoon of salt. Set it aside for 30 minutes. The salt will help to extract the moisture from the surface. Thoroughly wipe off the moisture with a paper towel. This process will help to season the ribs and also remove any unwanted flavor.

Pierce the ribs in numerous places with a fork or bamboo stick. This will help the meat to absorb the seasoning and also tenderize it. The ribs can be slippery so be careful not to hurt yourself.

Place the ribs into the bag of the marinade. Tightly close the bag and cover the ribs with the marinade. Keep the ribs in the fridge for at least 2 hours or overnight. This will make the meat tender and juicy.

Remove the bag from the refrigerator at least 30 minutes before cooking. Bringing the meat to room temperature first, will help cook the meat thoroughly and prevent undercooking.

Drain the excess marinade and place the ribs onto a wire rack on a tray. Then, transfer the remaining marinade into a pot. Sprinkle a generous amount of coarsely ground black pepper on both sides of the spare ribs. The vinegar, honey and ginger juice will help to tenderize the meat and the black pepper will bring out the flavor.

Place the ribs into the preheated oven along with the wire rack. Placing the baking sheet covered with aluminum foil underneath the wire rack will make cleaning up much easier. Bake the ribs at 200°C (392°F) for about a total of 25 minutes.

Meanwhile, let's reduce the marinade to make the sauce. Bring it to a boil and then remove the foam. When the sauce slightly thickens, it is ready. You can pour the sauce over the ribs to taste later.

When the top of the meat is deliciously browned, flip the ribs over. If the surface begins to burn, cover the ribs with aluminum foil. Bake until the other side becomes golden brown.
This dish goes great with shiraganegi, the shredded white part of a long green onion. To make the shiraganegi, please check out our yakibuta ramen video.