Enjoy the delicious Beef Steak Donburi with a refreshing Japanese-style sauce!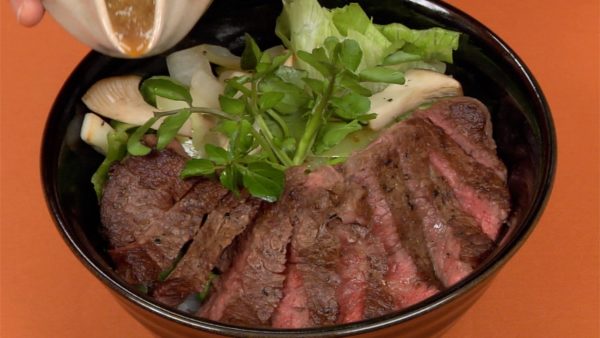 | | |
| --- | --- |
| | |
Let's prepare the vegetables. Use the outer layers of the onion to make the dish more presentable. Slice the onion into 1.5cm (0.6") slices and then cut them in half again.

Cut the eringi mushroom or king oyster mushroom in half. Cut it lengthwise and then slice into 5mm (0.2") slices. Cut the lettuce leaves in half lengthwise and then chop them into 1.5cm (0.6") strips.

And now, let's stir-fry the vegetables. Heat the olive oil in a pan. Drop in the onion and eringi mushroom and toss to coat with the oil. Sprinkle on the salt and brown the vegetables. Finally, sprinkle on the pepper, turn off the burner and place the vegetables onto a plate.

Remove the steak from the fridge 1 hour before you start cooking. On one side of the steak, sprinkle the salt and the pepper.

Turn on the burner and heat the vegetable oil on medium heat. Place the steak onto the pan with the seasoned side facing down. Occasionally shake the pan to help it brown evenly.

With a pair of tongs, check the under side of the steak. When it has browned thoroughly, flip the steak over.

Once both sides are browned, turn off the burner and place it onto a plate with the tongs. Cover it with aluminum foil while preparing the next step. This will help keep the steak warm and contain the savory juices while preparing the next step.

Let's make the delicious onion ponzu sauce. Remove the remaining oil in the pan with a paper towel. Add the sake and allow the alcohol to evaporate.

Turn on the burner and add the grated onion. Stir with a spatula and cook the onion until the pungent aroma softens.

Add the citrus-based ponzu sauce, grated garlic and butter. Continue stirring with the spatula and bring the sauce to a boil. When the butter is completely melted, the sauce is ready. Pour it into a sauce boat.

Let's make the beef steak donburi. Place the chopped lettuce onto a bowl of hot steamed rice. Next, place the onion and mushroom along the edge of the bowl.

Remove the aluminum foil from the plate and place the steak onto a cutting board. Slice the beef using diagonal cuts.

Line up the beef slices on the lettuce, presenting the pink cut surface. Finally, garnish with the watercress on top.

Just before serving, pour a generous amount of the onion ponzu sauce onto the beef, onion and mushroom. Wasabi also goes great with this recipe so try it out if you are feeling a little adventurous.
Cook the steak medium so that the beef is tender and the pink cuts are visually appealing.