Let's make delicious, spicy Tantanmen. The soy milk adds a smooth, mellow flavor to the rich, spicy broth. So delicious!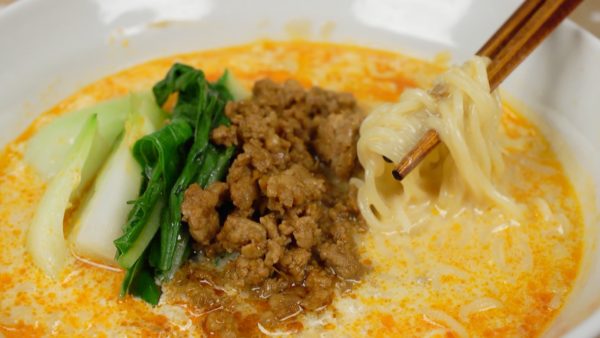 | | |
| --- | --- |
| | |
Let's make the meat mixture. Add the vegetable oil to a pan and turn on the burner. Place the ground pork into the heated pan and cook it thoroughly. Stir-fry until the pork completely turns white and the juices run clear.

Add the chopped garlic and ginger root. Stir-fry until it starts to grow more fragrant.

Add the tian mian jiang, sweet bean sauce and the soy sauce. Distribute the sauce evenly and continue to stir to avoid burning.

Add the sake. Reduce the liquid and then place the meat mixture onto a plate.

Let's make the soup base. In a bowl, combine the white sesame paste, soy sauce and vinegar. As shown, press the mixture with a spatula a little at a time to mix thoroughly. This will help to avoid separation.

When the soup base is completely combined, add the chopped long green onion and the hot chili oil.

Add the sesame oil to a pot of boiling water. Cut the bottom of the bok choy, detaching the outer leaves. Then, cut the leaves into 3 pieces.

Place the firm stalks into the pot. Next, add the leafy part. Remove and place onto a plate.

Combine the Chinese-style chicken stock and the soy milk in a pot. Heat the pot on the lowest possible heat and lightly stir the stock.

Let's make the Tantanmen. Place the fresh ramen noodles into the same pot of boiling water. Lightly loosen up the noodles with chopsticks.

Pour the heated chicken stock into the bowl, gently combining the soup base.

The noodles should be slightly firm so avoid overcooking. Using a mesh strainer, remove the excess water thoroughly. Then, place the noodles into the bowl.

Place the bok choy onto the noodles. Add the meat mixture next to the vegetables. Finally, drizzle on the hot chili oil to taste.
The sesame oil gives the bok choy a glossy texture, making the vegetables visually appealing.
You can adjust the amount of the hot chili sauce so that people who don't like spicy foods can also enjoy the Tantanmen.
For a substitute vegetable, spinach or komatsuna goes great with this recipe.