Matcha Mushipan have a beautiful green color and lots of candied beans are mixed in. The meringue gives them a fluffy and moist texture. The color and the aroma of the matcha are amazing!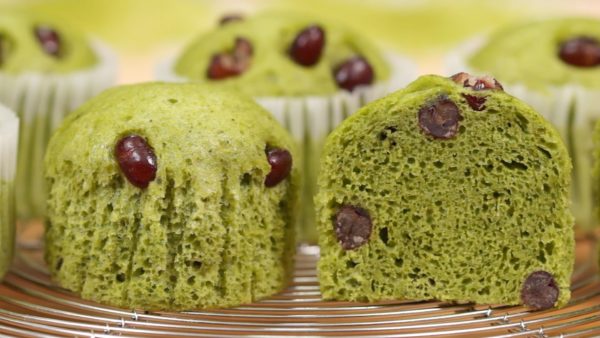 1

Egg

80

ml

Milk

substitute: soy milk or water

60

g

Sugar
6

Ramekins

5cm/2" diameter

6

Cupcake Liners
1

Egg

80

ml

Milk

substitute: soy milk or water

60

g

Sugar

6

Ramekins

5cm/2" diameter

6

Cupcake Liners
Let's make the batter. Add the milk to the egg yolk and mix to combine. Then, add the sugar and dissolve it completely.

Beat the egg white until it reaches a stiff peak stage. Adding the meringue to the batter will create a fluffy and moist texture.

Combine the cake flour, matcha green tea powder, baking powder and a pinch of salt. Stir to mix. Then, sift the flour into the bowl of the egg mixture.

Mix in the flour but avoid overmixing. Alternatively, you can make chocolate mushipan by adding cocoa powder instead of the matcha powder.

Add one third of the meringue and fold in the batter. This will make the batter slightly soft and help to combine the rest of the meringue.

Add the rest of the meringue. Avoid overmixing to keep the foam from breaking otherwise the soft texture will be lost.

When the meringue is almost combined, add the amanatto, a type of Japanese candied beans. And fold in the batter again. You can also use chocolate chips instead of the candied beans.

Place a cupcake liner in the ramekins and add an equal amount of the batter to each.

Top with the amanatto and gently press the beans to attach them to the batter.

Let's cook the mushipan. Bring the water to a boil. Then, turn off the burner. Place the ramekins into the steamer and heat it again.

When the water begins to boil again, cover and steam the mushipan on medium low heat for about 13 minutes.

Pierce the mushipan with a bamboo stick. If the stick comes out clean, they are ready. Turn off the burner.

Remove and place them onto a cooling rack. When cooled, remove the mushipan from the ramekins.
This dessert doesn't use any butter or vegetable oil, creating a light flavor so people on a diet should definitely try this recipe.
You can store the mushipan in the freezer. When you thaw, microwave them a little at a time until slightly warmed up.